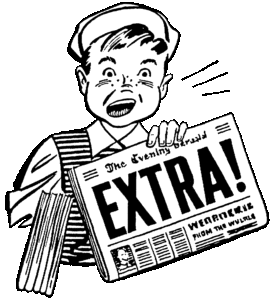 "Extra! Extra! Read all about it!" Thank you for you interest in receiving Chad's Newsletter! By entering your email address, we will send you the latest and greatest news regarding upcoming concerts, new music and Chad's journey through the music industry's highs and lows. You will also receive discounts and coupons through his store specifically for you just by signing up!
We generally send our newsletter out about once every month unless there is breaking, fantastic news that we feel everyone needs to know about right away! So, you have no need to worry about us clogging up your email. We also adhere to strict privacy standards during sign-up and allowing you to unsubscribe, easily, at any time. Thank you so much for joining and supporting Chad and his music. We look forward to keeping you "in the loop!"
Important: Please make sure to whitelist "[email protected]" in your email program to ensure you receive the newsletter! If you don't see an email after you complete your purchase, check your spam folder and then make sure that it is correctly whitelisted as not spam. We use "Double-Optin Security" to ensure it is you who indeed signed up for the newsletter. By adding this important security step, we keep our list clean and full of only those who wish to be on it! You will receive an email verification where you must click on a link to officially be added to our list.
NOTE: We do NOT sell, disclose or distribute your information to anyone! ***
The subscribe form is currently being upgraded. In the meantime, to subscribe – please use the contact page above and we will add your information manually. All we need is your name, email address and zip code. Thank you for your understanding!
Join the Newsletter Here!